Posted by Nemoshare
On Wednesday, 4 May 2011
4 komentar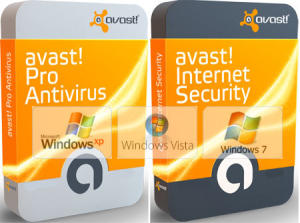 Avast! yang ane share pada Pagi hari ini dalah yang Pro valid sampai 2050
Avast Pro versi 6.0.1.1091 terbaru
nie beda nya.
Changes in 6.0.1091:
solved a compatibility problem with ZoneAlarm (WinXP)
added WebRep Chrome extension
improved installation of the WebRep plugins (especially Firefox)
various fixes and improvements in the avast sandbox
setup programs now smaller by ~20%
Community features and the Welcome screen can now be turned on/off directly from program settings
solved a compatibility problem with Outpost firewall
solved a bug related to the AutoSandbox offer (WinXP)
gadget can now be removed by simply closing it
solved a compatibility problem with GameGuard and sXe
SafeZone improvements
improved sandbox logging
SafeZone is now a standalone setup package (can be installed/uninstalled separately)
improvements in password processing
improvements in the program uninstaller
solved a memory leak in the avast gadget
fixes in the File System Shield transient cache
various stability/compatibility improvements Dan gak tanggung2 Pengunjung setia Radja Software Sekalian dah Ane bagi 2 produk andalan Avast
Avast Antivirus Pro
Avast Internet security
Sebenar nya sama saja dengan
Norton Internet Security
atau
Norton Antivirus
Avast Antivirus Pro
dan
Avast Internet Security
beda nya hanya sedikit.
AV gak kalah hebat dengan yang lain dan yang pasti enteng.
Avast! Antivirus Pro 6.0.1091 download
Avast! Internet Security 6.0.1091 download
Avast! Uninstaller Download
Crack For v6.0.1091 Until 2050 (Updated for this new version)
Instalasi via safemode:
1. Install Avast Internet security/Antivirus pro (aktifkan pada TRIAL mode) lalu restart
2. Pencet F8 dan masuk ke safemode
3. Replace file (ashBase.dll) dengan cracknya di direktori programnya (C:\Program Files\Avast\)
4. Restart/reboot.

kalo ada masalah, gak aktif dll... coba clean uninstall lagi avast nya pake tools diatas...
kemudian install lagi...
Klo udah di cracked jangan lupa add file ashBase.dll ke exclusion:
copy paste aja tulisan dibawah ini pada "path" exclusion nya...
Semoga artikel
Avast! Antivirus Pro and Internet Security Updated! (Valid until 2050)
bermanfaat bagi Anda.
Jika artikel ini bermanfaat,bagikan kepada rekan melalui: